A is for Anonymous is the 1st episode of Season 2 and the 27th episode overall of W.I.T.C.H. It first aired June 5, 2006.
Summary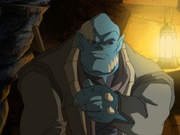 While everyone is celebrating Phobos's defeat, Trill the kitchen worker gives Queen Elyon a jewel which belonged to her mother, Queen Weira. Caleb reveals his intentions to stay in Meridian and serve Queen Elyon to Cornelia.
As Taranee starts thinking she will turn into an "invisible girl" again, the Guardians are faced with an old enemy, Frost, the Hunter, who followed them to Earth. Frost kidnaps Irma, Cornelia and Hay Lin and gives Taranee a ransom: Take Will to the cave, but without the Heart of Kandrakar or she'll never see her friends.
After taking Will to the cave, Frost captures Will and Taranee and Taranee gives Will the Heart back. Then, as expected, the girls transform and free themselves. In the middle of the battle, a portal suddenly appears and Frost escapes. Taranee admits to all her friends and Cornelia decides to still continue to be The Guardians.
In the B-story, a new foe called Nerissa appears as she frees Miranda, Gargoyle, the Tracker, Sandpit and Raythor and meets Frost. Now the enemies who Nerissa released are called Knights of Vengeance.
Trivia
This episode marks the first official appearance of Nerissa as herself.

While she as appeared before in season 1, she was in disguise as The Mage and Trill although this was unknown at the time.

The power of Quintessence is introduced in this episode.
Beginning with this episode, Will now says, "The Heart" when she transforms.
The Knights of Vengeance are formed in this episode.
Phobos's hatred of Miranda due to her not freeing him begins this episode and it does not resolve until W is for Witch.
Vathek's pyshical strength is considerable enough to shatter chains but not to free himself from Miranda's web.
Community content is available under
CC-BY-SA
unless otherwise noted.