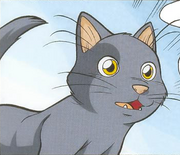 Napoleon
is a normal black cat in comic present from
Wilhelmina "Will" Vandom
to
Cornelia
Storyline
Comics
when Caleb transformed to a flower will gave his to Cornelia but Cornelia didn't warm up to him and gave him to her little sister instead, at first Cornelia hated him for attaching flower Caleb but discovered it was actually protect it from a crow, and she warms up to him.
Animated Series
In the TV series Napoleon can talk and transform when he needs to as a regent of earth.
Originally, Will Vandom bought him from Matt's grandfather's pet store as a present to Cornelia Hale to help her to try and get over her heartbreak over Caleb. Cornelia gives Napoleon to Lillian. The girls first discover Napoleon can talk in the episode "U is for Undivided." Upon discovering that Lillian is the Heart of Earth, Matt and Cornelia convince Lillian to share her power with Matt Olsen, Napoleon and Mr. Huggles, making them the Regents of Earth.
Gallery
Community content is available under
CC-BY-SA
unless otherwise noted.