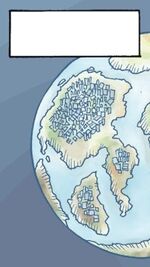 Nune-Boreal is a planet that appears in Arc 9: 100% Witch.
Dimensional Details
It is a planet where magic and technology are perfectly balanced in harmony. The planet is much like Earth though generally more open minded.There are specifically designated magic-only and technology-only areas across the planet. The Guardians have a large fan base on Nune-Boreal. On occasion, Nune-Boreal hosts competitions for artifacts of significant value, as seen in Issue 104: Another World.
Gallery
Community content is available under
CC-BY-SA
unless otherwise noted.