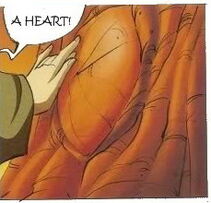 The Pumpkin Heart is a magical object in the W.I.T.C.H. Halloween Special Issue.
Halloween's Core
While the W.I.T.C.H. girls are partying on Halloween, Cornelia and Lillian discover a mysterious forest and find the Laughing Tree. Cornelia notices that the tree has a heart and touches it. When the dance troupe of nightmares appears, she and Lillian immediately leave. The Fairy then discovers how to eradicate the nightmares and finally put an end to Halloween. She steals the heart and hides it inside her house. This causes the nightmares to lose their ability to be seen by the naked eye and therefore unable to frighten the humans. After the nightmares and the Guardians meet, they decide to team up for the search of the stolen heart. When they confront the Fairy, she stabs the heart, causing people to temporarily forget the existence of Halloween. In the end the heart was restored back to the Laughing Tree, ensuring the survival of the nightmares and the existence of Halloween.
Vitality
If the Guardians were unable to return the heart before morning, all the nightmares would be erased and Halloween would lose its place in the world. The Pumpkin is an important emblem of Halloween and of course, Sheffield Institute. Whereas Halloween has a special place within Magic both in the comics and in the Television Series.
Community content is available under
CC-BY-SA
unless otherwise noted.