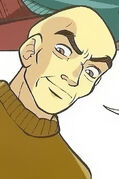 Riddle is an elite psychic detective that was brought in to combat the W.I.T.C.H. girls when their supernatural secret was exposed to the Government.
Story
Although his skills are impressive, which range from mind-control to telepathy, he is not strong enough to combat W.I.T.C.H. directly. He carries a handgun because of his motto "bullets are always faster than the mind" in case he is in trouble. His goal is to experiment and analyze the W.I.T.C.H. girls and uncover how their Guardian and elemental abilities really work. Although he was hired by Interpol, he seems to have his own sinister agenda.
Animated Series
In the animated series, He is Dr Theodore Riddle. He appears briefly at the end of the TV series in the episode Z is for Zenith alongside Raphael Sylla foreshadowing his role in the planned 3rd season.
Community content is available under
CC-BY-SA
unless otherwise noted.