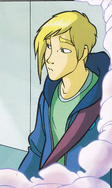 The Runics are a male group of five black magic users that want to overthrow Kandrakar. Their captain is Nashter, ruling energy. Darmon rules fire, Shalin rules air, Cromo rules earth, and Ran-Rah masters water, however their powers pale in comparison to the Guardians', being nowhere near as potent.
Members
Current members
Former Members
Plot
The Runics were first seen on Nune-Boreal, competing in the planet's annual competition to win that year's prize, the Narval Wand. Thanks to the W.I.T.C.H. girls, they did not win the wand.[1]
Nashter, the former leader of the Runics, ran away from his position when his superiors punished him for failing the mission.[2]
References