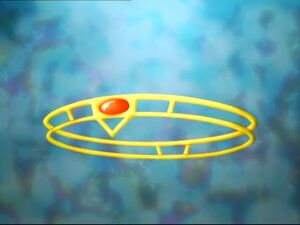 The
Symbols of Elyon
are a magical crown in the
animated series
.
History
The Symbols of Elyon are her Body, Mind and Spirit. Phobos had finally discovered who his long lost sister was in Season 1 "The Princess Revealed" and it turned out to be Elyon Brown. In "Stop the Presses" Phobos started the Ritual of Amalgamation, which would cause a part of Elyon to be in Meridian already, so that it will be easier to bring her there afterwards. For this ritual, he needs symbols of Elyon's body, mind, and spirit. Cedric takes her hairbrush (body), A+ math test (mind), but the Spirit is much harder since Cedric had to get her breath. Cedric finally captures Elyon's breath (spirit) in a balloon. In "Parents' Night" the Ritual of Amalgamation has been completed and the three items combine to create a crown, which Elyon wears, even after Phobos is defeated in Season 2. Later on in the episode, Cedric manages to take Elyon back home to Meridian and to a lying Phobos, who comes up with dumb lies like the Veil and the Guardians etc.
Distinguished from the Crown of Light
Though the appearance of the Crown of Light and the Symbols of Elyon are similar, the function varies greatly. In the comic book the Light of Meridian's power were converted into the crown and hence has the ultimate power of the planet. While the powers of Meridian in the animated series were given to the Heart of Meridian.
Community content is available under
CC-BY-SA
unless otherwise noted.