The Last Portal (
also called
"the Thirteenth Portal"
by fans) is a mystical, supernatural instrument that appeared in the basement of Ye Olde Bookshop after the defeat of Jonathan Ludmoore in
"Arrivals and Departures"
.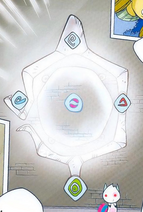 Appearance
It has a shape resembling the Heart of Kandrakar and has the symbols of the elements Earth, Air, Water, and Fire, whereas the Heart-shaped object represents the undefined fifth element of Pure Energy.
Usage
It works as a means of communication with other worlds including Kandrakar. The Guardians also use it to see things live at an unlimited distance, and as a direct entrance to any destination. The control of the portal is by thoughts which must be well controlled to avoid unwanted effects or results.
Trivia
Community content is available under
CC-BY-SA
unless otherwise noted.