Tibor is the Oracle's faithful advisor and a member of the council of Kandrakar who believes 100% in the Oracle's abilities.
Plot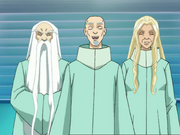 He has been with the Oracle for centuries and often argues with Luba. Irma said once when they visited Kandrakar, that Tibor looked like Santa Claus.[citation needed]
Appearances
TV series
Gallery
Images of Tibor from the TV series.