William Collins is the one-year-old half-brother of Will Vandom.
Plot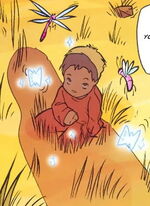 At first, Will was proud of having a brother, but when relatives started arriving, they kept calling William "Will" and Will "Wilhelmina," which she didn't like at all, causing her to resent her young sibling.[1] This changed when she discovered that he has magical powers, she then wanted to keep him safe as he was so young.[2]
William developed a very strong bond with Will, even in times when she had to go to the extreme of saving him from evil, such as the Dark Mother[citation needed] and the White Queen.[3] Will even allowed William to sleep in her bed with her when his paternal grandparents were staying with the Collins-Vandoms and insisted.[4]
Powers and abilities

William has shown he's able to:
Create floating bubbles - In which he could play inside.[citation needed]
Enlarging his milk bottle - To eat more.[citation needed]
Conjuring up astral butterflies and wild animals - In order for him to interact with.[5]
Grow similar wings to the Guardians' - In order for him to fly.[2]
Survive transit between Earth and the Fast World.[3]
References