W.I.T.C.H.: The Graphic Novel, Part I. The Twelve Portals Vol. 2 is the 2nd volume of the Yen Press Graphic Novels. It was first published on October 31st 2017, alongside volume 1 and volume 3, together collecting all of Arc 1: The Twelve Portals. It was released in both paperback and digitally by the Yen Press imprint JY.[1]
Synopsis
The Power of Five
The new Guardians continue their mission to close the twelve portals to Metamoor that threaten their world. When the prediction that they will be betrayed by someone close to them comes to pass, though, can the W.I.T.C.H. girls pull together, or will they come apart at the seams?
Issues
Bonus content
This volume features three double-page spreads of information about Taranee, Cornelia and Hay Lin.
Credit
Credits for this volume, separate from the issues are:
Cover art by

Alessandro Barbucci

Colors by

Barbara Canepa

and Mara Damiani
Translation assistance by Eva Martina Allione
Lettering by Katie Blakeslee
Russian edition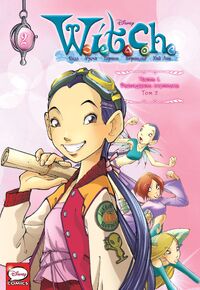 The Russian comic publisher, Komilfo (Комильфо), announced that they are republishing the W.I.T.C.H. comics.[2] Their books have a new Russian translation which is based on Yen Press' editions.[3] This volume is was released in March 2021 in hardback with the title W.I.T.C.H. Чародейки. Двенадцать порталов. Том 2.
References