W.I.T.C.H.: The Graphic Novel, Part 3. A Crisis on Both Worlds Vol. is the 9th volume of the Yen Press Graphic Novels. It was first published on 29th May 2018, alongside volume 7 and volume 8, together collecting all of Arc 3: A Crisis on Both Worlds. It was released in both paperback and digitally by the Yen Press imprint JY[1].
Synopsis
Problems on Every Front
The girls have barely recovered from their adventure in Arkhanta when they suddenly find themselves facing an Astral Drop revolution! How can the Guardians stop their doubles from wreaking havoc in their lives, though, when the Astral Drops know exactly where to strike the Guardians to turn their lives upside down?
Issues
Bonus content
This volume includes a double-page spread on Irma's wardrobe, pointing out details.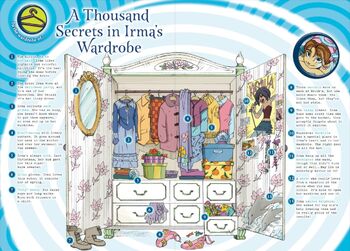 Credit
Credits for this volume, separate from the issues, are:
Cover art by Giada Perissinotto
Colors by Andrea Cagol
Translation by Linda Ghio and Stephanie Dagg at Editing Zone
Lettering by Katie Blakeslee
References