W.I.T.C.H.: The Graphic Novel, Part 4. Trial of the Oracle Vol. 3 is the 12th volume of the Yen Press Graphic Novels. It was first published on 25th September 2018, alongside volume 10 and volume 11, together collecting all of Arc 4: Trial of the Oracle. It was released in both paperback and digitally by the Yen Press imprint JY[1].
Synopsis
The Oracle Accused!
Having uncovered the true identity of the new Oracle, W.I.T.C.H. and the former Oracle head to Kandrakar in an effort to free Elyon, return the Crown of Light to its rightful owner, and protect all of creation from this terrible threat. Things seldom go as smoothly as planned, though, and as things begin to unravel, can the girls survive their most important mission ever?
Issues
Bonus content
This volume includes a single-page information sheet on Endarno.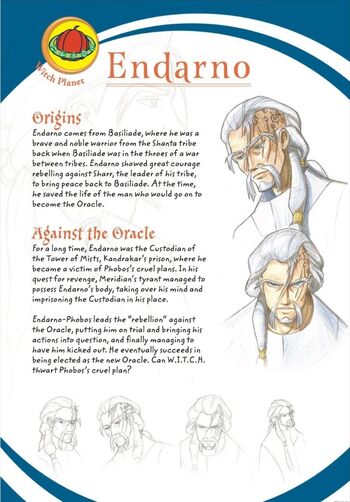 Credit
Credits for this volume, separate from the issues, are:
Cover art by Giada Perissinotto
Colors by Andrea Cagol
Translation by Linda Ghio and Stephanie Dagg at Editing Zone
Lettering by Katie Blakeslee
References