W.I.T.C.H.: The Graphic Novel, Part 5. The Book of Elements Vol. 2 is the 14th volume of the Yen Press Graphic Novels. It was first published on 22nd January 2019, alongside volume 13, collecting the first half of Arc 5: The Book of Elements. It was released in both paperback and digitally by the Yen Press imprint JY[1].
Synopsis
An Enemy Redeemed?
Running Heatherfield's Ye Olde Bookshop isn't the new life Cedric wanted for himself, but it may have given the perfect opportunity for revenge! With the Book of Elements and the secrets it contains, Cedric's found the power he needs to finish the Guardians once and for all, but is that what he really wants...?
Issues
Bonus content
This volume includes three pages of information on Peter and his room, pointing out details.
Credit
Credits for this volume, separate from the issues, are:
Cover art by Manuela Razzi
Colors by Andrea Cagol
Translation by Linda Ghio and Stephanie Dagg at Editing Zone
Lettering by Katie Blakeslee
Trivia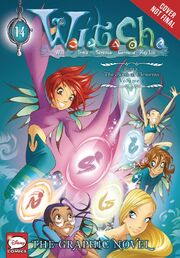 This volume had a preliminary cover release that, unlike other covers in this series, vastly differed from the final version.
References