W.I.T.C.H.: The Graphic Novel, Part 7. New Power Vol. 1 is the 20th volume of the Yen Press Graphic Novels. It is was first published on 27th October 2020 as part of Arc 7: New Power. It was released in both paperback and digitally by the Yen Press imprint JY[1].
Synopsis
The Strength Inside
A powerful dark force awakening under Heatherfield pushes the Oracle to seal off Kandrakar! Meanwhile, the girls wake up the day of their auditions for the Jensen Dance Academy, only to find their powers gone. Unable to contact Kandrakar, an old friend may have the answers they need.
Issues
Bonus content
This volume, unlike all other volumes of the Yen Press Graphic Novels so far except for Yen Press 19: Ragorlang Vol. 3, has no bonus content.
Credits
Credits for this volume, separate from the issues, are:
Cover art by Giada Perissinotto
Colors by Andrea Cagol
Translation by Linda Ghio and Stephanie Dagg at Editing Zone
Lettering by Katie Blakeslee
Trivia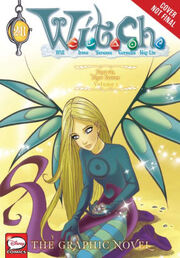 This volume had a preliminary cover release that, unlike other covers in this republished comic series, vastly differed from the final version.

This cover used the pin-up art from Issue 076: Earth instead of the its cover art, which was used for the final version of this volume.
References